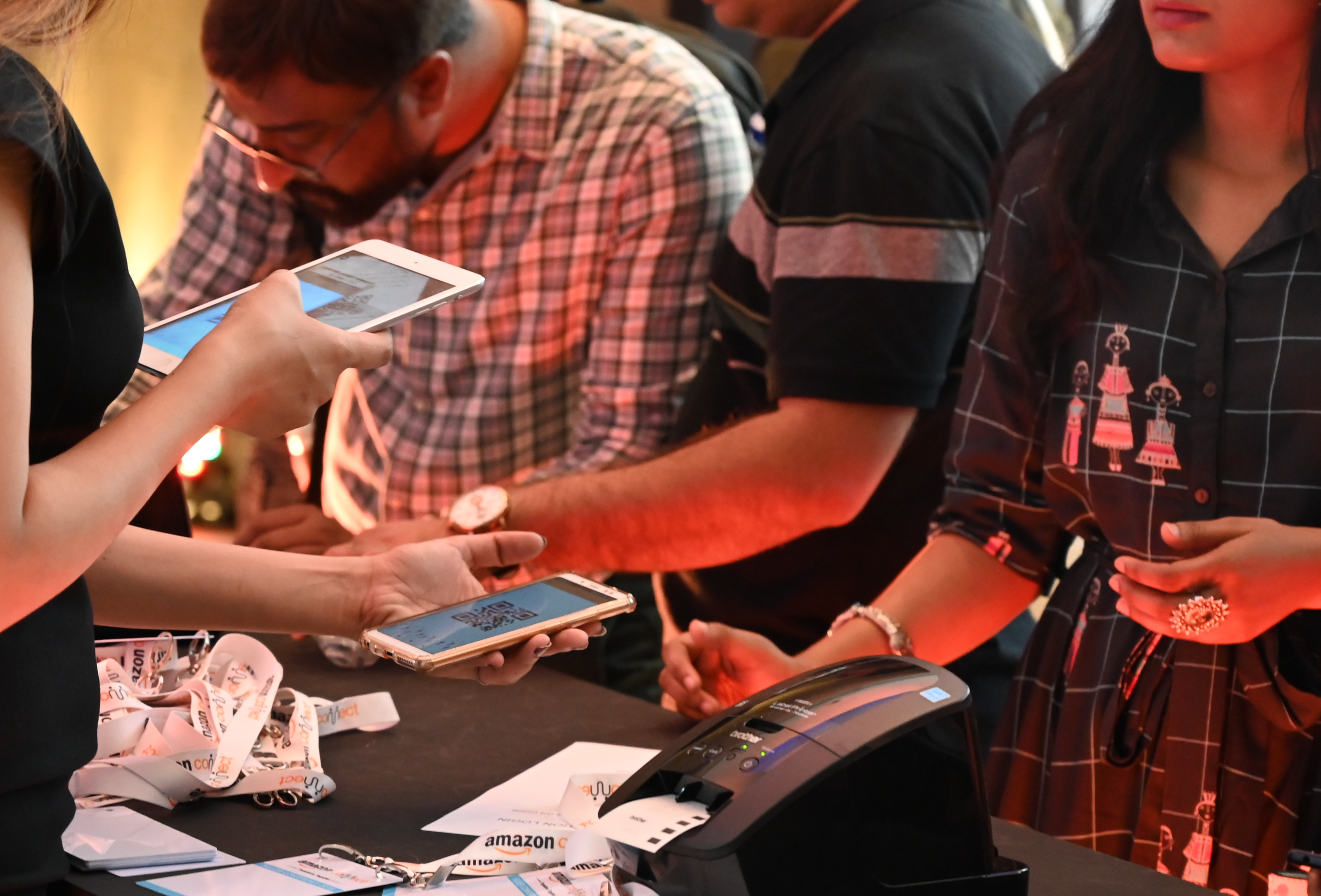 The event checkin & registration desk is the first impression your guests have of your event. It needs to be stunning, welcoming and efficient. Time to replace outdated practices across all types of events – conferences, corporate, meetups, incentive, family days, exhibitions. Put your best foot forward with onsite event technology.
Long queues? Volunteers fumbling around badges? Flipping through paper guest lists? Missing badges? Last-minute registrations? Clogged up entry-points? Annoyed guests? Unaware of guest count? Still facing such problems? Time to go digital with your event checkin. Think like your guest – Your guests are mobile-savvy, loyal to tech brands, incredibly self-reliant, impatient and yearn for instant gratification. Not convinced? Here are 7 more reasons.
Airport checkin experience
Your guests are well-traveled, probably checked into a flight 24 hours ago. They expect a checkin experience similar to an airport. Your guest should walk to any counter, show identification, show valid ticket/confirmation(on mobile!), walk out with their badge. All within seconds.
Shorter queues  
Our studies show guests stand in line upwards of 4-6 minutes when no technology is used in event checkin. Primarily due to event staff, sorting through badges & searching printed guest lists. In today's fast-paced world, waiting for "minutes" is an eternity for your guests. A smart onsite checkin mobile app can reduce guest wait times by over 1200% to under 30 seconds.
Instant Check-in
With technology, our actions have become instant. Book a cab, Shop wardrobe, Order Food, Pay taxes – Just a tap away. So why isn't your event checkin. Integrate technology to support and empower guest's fast-paced behavior. At events powered by our solution, guests scan their unique QR-code and are instantly checked in. No searching, No sorting, No waiting! Don't believe us? Check our video.
Smarter Manpower, Lesser training
Good event staff is no longer sufficient. With increasing costs, your event volunteers need to get smarter, efficient and reliable. With the experience of hundreds of events, guest & organizer feedback, our product team has designed an event checkin app that is intuitive, ergonomic, easy-to-setup and simple to use. Our plug & play solution ensures training is completed within 5 minutes. You can trust the checkin app to do the hard work, while your volunteers welcome your guests with a smile!
Bonus Insight: Most events working with us have converted their check-in desks to self-check-in kiosks. Contact us to know more.
Flexible & Adaptable
Invariably despite days of planning the unexpected always occurs at every event. At such moments you expect your staff to react quickly and adapt. Expect the same with your technology. Rigid technologies lead to frustration. On-site event checkin technology should adapt to guest & logistics requests – last-minute guest updates, additional data to capture, new tracking locations, table changes and more.
Live Analytics & Tracking
Data! Data! Data! It needs to be Live, readily available and reliable. 'Nuf said.
Secure & Reliable
Data Privacy is on top of your guest's mind. Besides ensuring your guest data is up-to-date, organized, synchronized – it needs to be secure! Access to data, export/print should be restricted and administered. Absolutely critical to ensure guest QR-codes are encoded, that can be decoded only by the checkin app. Our solution is powered by an enterprise-grade GDPR compliant platform. We had made data privacy our top priority which forms the backbone of our solution.
Wrapping up, eliminate event checkin chaos, uninterested volunteers and guest frustrations. Instead generate enthusiasm for your next event with high-end technology. Feel free to contact us.