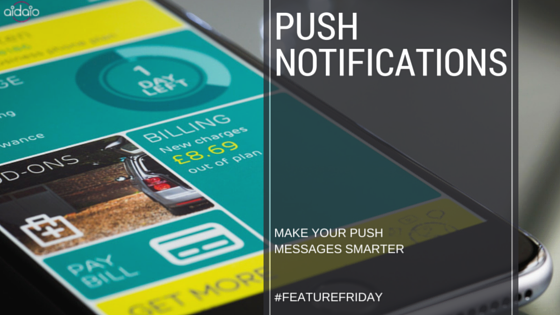 Unlike popular mindset, 50% of mobile users see Push Notifications as helpful ! Survey
Push notifications are great to engage and re-engage. Take a second to ponder – how do you decide during your busy schedule which app to engage with ?  Which is the screen on your phone that you view the most ? – Your mobile's notification screen ! Push notifications are a powerful form of mobile marketing & communicating relevant content to users.
Problem
"With great power comes great responsibility."
If you get too "pushy," you will get booted. On the other hand, if you underutilize push notifications, both you and your customers are losing out on value. We all know people who uninstalled an app just because too many notifications kept flooding their phones. So let's look how push notifications can be made more helpful, smarter and user-friendly.
Personalized notification
Push notifications need to be targeted to the right user groups at the right point of time. The key to it is make it 'Personalized'. No one wants to read a generic 'broadcast' message – not every day ! Talk to your consumers, use your analytics to learn their needs & behaviour. Present them benefits to choose from. For example – do they need a reminder of the session they RSVP ?  do they want want recommendations based on interests ? 
Interactive notification
As important as it is to make it personalized, your notifications needs to drives your target audience to take action. Traditional notifications alert the user when a message came in, but you couldn't do anything without leaving their current activity. With upgrades to Android & iOS users can reply or take action to a message within the banner. For example – When you push a poll as a notification, attendees can answer it in the notification screen though they might be reading news on another app. Or accept/reject an appointment request. 
Image notification
A picture speaks a thousand words. This age old saying stands true, as humans are a set of visual creatures, who tend to comprehend and respond more to visual stimuli. What better, send notifications with an eye grabbing image that hits the bull's eye.
Deep-link notification
How many times have we received push notifications and on-tap, it takes us to a screen that has no relevance to the message ? Start deep linking your push notifications. Deep Linking takes users to a specific area within the app instead of simply loading the app. For example – If you want to inform your audience about an exciting poll, ensure that once they click on the notification it takes them directly to the poll, not the home screen. This will ensure that more and more people participate in the poll.
In Conclusion
Studies have shown on average, Push notifications is 2x more effective than email campaigns. They can help you bring back users to your app, increase engagement, sales and retention. But don't over do it. It is critical to utilize analytics to evaluate effectiveness of your notifications and iterate. Make sure you create messages that hold value to the end user. Leverage advanced techniques as listed above to create an impact and ROI for your brand. With latest updates on both Android and iOS (Apple) brands have immense power to increase lifetime value with their customers.
So next time don't just "PUSH" a notification. Go beyond it !
About us
The AidaIo platform is focussed on driving engagement and getting you up close and personal with your audience. We have built a suite of features to create interaction and engagement. Contact us to know more.
Follow us @teamaidaio