They trust us. You can too.
500+ Event apps have delighted our clients and their attendees
Much eager to see what gcs has in store with. Already excited with all these great features added to the app here…must say this app had made easy to know more about the summit seriously and its UI is also very responsive 😍😍

Google Cloud SummitAttendee
I just wanted to say Thanks again for this great app. I love having all the info I need right at my fingertips! I'm also feeling connected with people I haven't even met yet through the message posts. This is truly a great experience! 👍👏

Amazon Tech ConferenceSr. manager
"Wow ! Cipla is going leaps and bounds with this wonderful event app. What a vibrancy in the event app with the photos and videos shared. The same should be replicated this year to achieve Onecipla mission . Let's spread this positive energy everywhere to chase our goal. Kudos to all..! #OneCipla #Achievers #Mobile"

Cipla AwardsKey Note Speaker
".. This conference app lives up to the Dell brand and it is easy to communicate and interact with everybody. Thank you events team."

Dell India SummitDelegate
Thanks to everyone for making my job so easy and so much fun. Brilliant to see and hear the enthusiasm from you all in the app.

Siemens Internal EventEvent App Manager
Woohoo 🙂 this event app is such a cool way to kindle the pre-Conf excitement!!! Way to go! Can't wait 🙂

Amazon D&I Event Attendee
Everything you ever needed in an Event App
Our Event App builder platform caters to all types of events – Conferences, Meetings, Incentive, Tradeshows, Exhibitions, Family days and even weddings!
Fastest APP Builder
Your APP is created & ready for publish to APP stores in minutes. Unlimited Instant Design & Content changes with no additional APP store approval. We assure you !
Bulk Upload Content
Have lots of content in excel like agenda, attendee, speakers, exhibitor list ? OR require integration to your registration or corporate CMS ? Just a click away !
Relevant Analytics
An easy-to-use dashboard to monitor installs, usage, feedback and much more in real-time. Use live & post-event data to show sponsors & your boss event app ROI !
GAMIFY YOUR EVENT APP
Your event has people from different backgrounds and motivations to be at the event. Engage & Energize them with game mechanics to make it fun to meet their objectives. Provide instant gratification with leaderboards, points & badges. Drive traffic with treasure hunts that integrate the physical, social and digital world. Gamification is the next big thing for your event. So Get Started Today !
Event Apps tailored to your event, your brand
Use Event Apps to eliminate Redundancy, uncover Insights & speed up Communication.
Go Green. Save Our Planet.
Reduce your CO2 footprint via a paperless event. It is estimated 70% of printed materials will end in trash. Instead use event apps to replace brochures, feedback, surveys, catalogs etc,. Don't forget a paperless check-in.
Lower Costs. Fewer Onsite Staff.
Say Goodbye to paper, besides communicating digitally with thousands of attendees at the event. With an event app you can create a centralized database of all content and make updates on the fly with fewer event staff.
Generate Revenue. Deliver ROI.
Create deeper connections & business opportunities using the event app. Drive revenue with effortless lead capture and deep insights of attendee interests to deliver tangible ROI for sponsors & exhibitors.
Delight your Attendees
Our goal is to leverage your event app investment to extend the experience before, during & after your event
Track Event App ROI
Reduce Costs, Drive interaction, build human connections, trigger conversations and grow your community with a smart event app.
Get Started !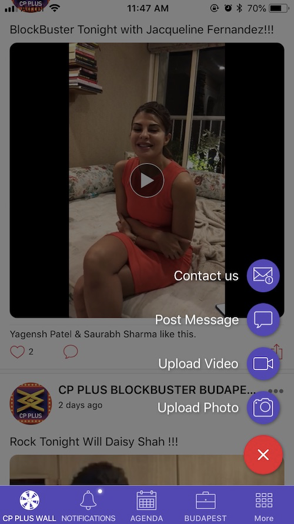 Event Information
Push Notifications, Interactive Personal Agenda, Speaker Listing, Documents, Presentations, Photo & Video Gallery
Audience Engagement
Upload Video, Event Feed. Audience Polls, Pulse Surveys, Contests & Rewards, Leaderboard, Live Q&A, Quiz, Puzzles
Event Interaction
Podcasts, V-card Exchange, Smart-Badge Scan, Lead rating & notes, 1-1 Chat, Offline Feedback
Bespoke Event Apps for your event & your brand
We know your event needs are unique. Use 80+ features & numerous templates to launch cost-effective Event Apps that provides a great user experience. Our event apps work Offline and personalized for every user.
Conference App
Read more about Conference Apps. Click me or Have a medical conference ?
Tradeshow App
Connect visitors and exhibitors – Improve Booth Traffic, Lead Generation and more. Read More ›
Corporate Meeting App
Extend your meeting – Enhance communication, Go Paperless & capture valuable insights with Polls and Analytics.
Incentive App
Engage & Immerse – Build excitement in advance, Gamify the trip, Keep memories alive & Encourage learning.
Art Exhibition Apps
Build a multimedia experience – Collection Highlights, Audio/Video Tours & Integrate Twitter, Instagram, Facebook.
Multi-Event Apps
Multiple events, One Brand – Promote one event app, Enhance event discovery and unified notification center.