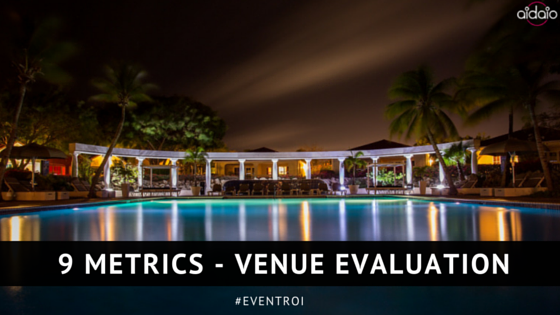 This is Part 2 of our Event ROI series – Venue Performance Evaluation. Check out Part 1 -Speaker Evaluation.
When organizing any event, an event planner has to make many decisions that will have an impact on the overall success of the event. Deciding upon the best event space is one such delicate decision that has the largest impact both on experience and budget. There are lots of reading material on how to choose a location. Here is the link. But often neglected is getting feedback from the attendees post-event about the Event space.
Evaluate your venue performance with these 9 metrics (w/BONUS).
You: Where the Needs met? | Visitor: "I accomplished my goal"
How good were the basic amenities at the venue? Like lighting, water, power, fire exits, etc.
Was it too crowded ? Was there ample space for networking or finding people?
How were the acoustics at venue ? Too loud ? Was it hard to hear people?
[BONUS] Was the venue accessible to everyone? Special needs? Elderly guests? etc.,
You: Was it Easy? | Visitor : "I didn't have to work hard"
Was it easy to locate the place? Parking? Public transportation availability?

Were the venue staff/in-charge easily accessible ? Did you know/utilize the venue concierge service? 

Was the layout easy to navigate? Did the floor plan help to locate areas of interests?
You : Was it Enjoyable? | Visitor: "I felt good about that"
What was your impression of the overall decor and ambiance of the venue ?
Was the location clean?Restrooms, Dining areas etc.,
Would you recommend or visit the event space again with family or colleagues ?
Using Aidaio Event apps you can not only capture above data efficiently, but also provide venue information such as parking information, interactive floor plans and much more.
About Us
At AIDAIO, we believe a significant part of the answer lies in data generated by event technology and mobile apps. Using the Customer Experience Pyramid we are excited to start a series to provide Actionable metrics for event planners to measure various aspects of Event ROI. We are glad to hear from you and add to it. Do visit our website www.aidaio.com to know more. You can also write to us at [email protected]